Product-specific static equilibrium point correction and Technical Support through AR/VR, Big Data and Digital Twins technologies.
PILOT 1
Utilisation of AR/VR communication & remote sensing Technologies for Technical Support between Remote Plants of Arçelik
Arçelik has eight different Washing Machine plants that are located in different countries. We will focus on Romania and Cayırova/Istanbul Washing Machine plants with this use-case. Technical support for production lines and collaboration of design teams at remote factories require the existence of experts in many different engineering branches. This causes additional costs and delays in providing the technical support, which can even lead to halts in manufacturing lines. Currently, there is no other option except phone calls, e-mails and factory visits to investigate the technical problems and to receive the detailed feedback about the reported problem and root cause. It causes delays in the project deadlines, the downtime on the production lines, time-consuming and extra cost, huge efforts between teams.
A central team of engineering experts will remotely support the local factories through augmented reality (AR) and virtual reality (VR) communication tools. The experts will be able to remotely advise and inspect the local problems by means of video teleconference, augmented by sensor readings, instructions and notes. Local engineers would be able to be guided by experts located at the main headquarters which will enable the efficient use of expert human resources to solve technical problems, reduce the efforts (site visiting, equipment transport and travel needs) and reduce the error-rate caused by humans.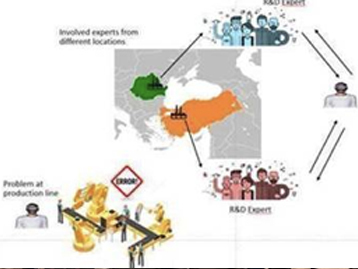 Remote support by Istanbul experts to other factories' maintenance engineers
SHOP4CF scope:
AR or/and VR remote support (live)

Remote sensor readings
Reduction of the needs for expert engineers on-site, and shortening and easing the training of human resources.

Reduction of visiting local factories to inspect the problems by the expert team.

Reduced the engineering efforts (equipment transport, site visiting and travel needs).

Efficient use of engineering resources.

Reduction of production losses.